Below is a quick guide of the basic functions of TheAudioDB.com
Hopefully most things are intuitive and simple to use but here are the basics:
Searching for Artists
You can search for any artist from the main page. Just type in the name of the artist or album or track name. A search results page will list all the results.
NOTE: Currently it is not possible to search for a combination of names yet.

Uploading Artwork
Simply click on the pencil icon next to any graphic to upload.
NOTE: Please resize any images to the correct dimensions and aspect ratio before uploading. All PNG logos should be transparent. All covers and other images should be JPG quality at around 10% compression.

Adding Artists
First search for the artist to see if it already exists. If it doesnt then you can manually add them to the database by clicking on the add artist button in the bottom left corner.
Simply type the name of the artist in the search box and press return on the keyboard. A second list will display with all the artists found. Now just click on the artist that best matches the one you want and wait up to 2 minutes for the artist to be imported. Once its imported you can click on the big green arrow to navigate to that artist and fill in all the details.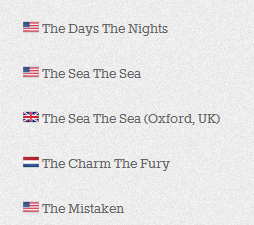 Adding Albums
You can add a new album from a band by clicking the pencil icon next to "Studio Album Releases" heading on the artist page. Next you will need to copy and paste the URL to the album release group.
NOTE: It is important to use the Album Release-Group URL, not an individual release URL.

A list of all album releases will now appear so try to add the best one such as the special edition or Japanese release (many Japanese releases have cool bonus tracks).
Once this is done you can edit all the album details and upload a cover if needed.
Editing Artist or Album Data
Simply go to the artist or album and click the pencil icon next to the description

If you would like to edit the descriptions in another language, simply click on the appropriate flag in the edit page.
Loving Tracks
You can love or unlove any track by clicking on the "Love this" text on the track page.


Rating Albums
You can rate any album out of 10 by clicking on the stars graphic on the album page. Hover over the stars with your mouse to check what exact score you would like to give.